Laura MacKenzie and The Lads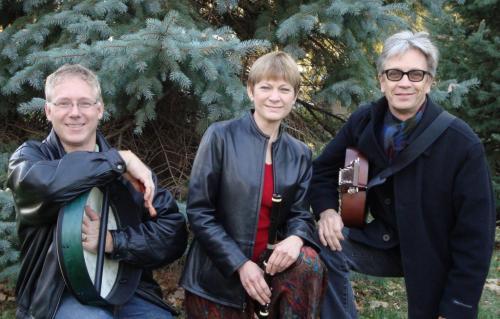 Laura MacKenzie and The Lads
is a traditional trio with a richly Irish core. The group also features new compositions inspired by traditional forms, as well as music from Scotland, Cape Breton, Central France and Galicia (Northern Spain). Their arrangements and interpretations are wonderfully arresting and always charming.
All members of this ensemble are accomplished players and they thoroughly delight in performing their best selections from a vast repertoire. World class Irish stepdance can also be an element of their touring shows.
The trio features Laura on wooden flutes, whistles, concertina, Scottish smallpipes, Border pipes, French pipes and voice, supported by guitar and percussion (including the Irish bodhran). Together, they present a dazzling spectrum of Irish music (sometimes with dance) plus Celtic music from Scotland, France, Galicia and Minnesota, with great exuberance and skill. (Pictured above are Michael Bissonnette, Laura, and Gary Rue).
When Laura and The Lads join forces, when traditional artistry and modern sensibilities come together, something wonderful happens: a driving, intensely melodic profusion of sound…a hybrid of flutes in full flight, percussive, persuasive guitar, voices that soar, drums that echo, and hold-on-to-your-hats piping that delivers a rich tapestry of marvelous music.
From The Holtby House Concert Series....
"Thank you so much for the great evening of music, charm, grace and beauty. You filled our home with loveliness and everyone delighted in your performance."
Laura and the Lads recorded a LIVE TV program for
Baby Blue Arts
- Baby Blue selected several of the many pieces for a feature on their website. A "Behind the Scenes" interview is also available on Baby Blue Arts - go to "Search Artists", then "Interviews."
Celtic Christmas Concerts
Laura MacKenzie and The Lads present 
"Celtic Christmas"
concerts annually, often joined by Irish Step Dancers.
These are our
Yuletide Celebrations
,
Christmas Carols and Classics delightfully arranged with traditonal Irish and Scottish music - and dance!
For tradtional Celtic Christmas music, listen here:
Celtic Holiday
 and here:
Yuletide Bagpipes
Here is the trio (Michael Bissonnette, Laura, and Gary Rue) in holiday holly mode
:
Laura MacKenzie and The Lads